G-L-O-R-EYE-EYE-EYE
Coiled in the 2:37 of that track was all the explosive energy and carnal appetite and wild joy that the grownups in charge had been trying to tamp down since Plymouth Rock.

Or, what genius can make of three chords and 2:37
Mr K, amanuensis to Dr Essai, has been reading a lot of Patti Smith lately, which led to this:
Whenever it rang out of my transistor radio in 1966, by the fourth beat and third chord we always knew it was that song again, the one that made us feel so good made us feel all right. WSAI—1360 on Cincinnati's AM radio dial—played it all the time and that was fine with me. The guitar intro had no riff, the lead player just strumming the first chord progression every guitar kid learned back then, E Major to D Major to A Major. Chord progressions are public domain, you can't copyright them, and this one surely has been used a hundred thousand times, but play it on a suitably jangly guitar at the right tempo and everybody knows you're playing "Gloria."
The record broadcast by 1360-AM was by a one-hit band out of Chicago called The Shadows of Knight. I had no idea their version was a limp cover of a record made two years earlier by a Northern Irish band that featured a sneery-voiced singer named Van Morrison, who had penned the lyrics. I was 12 years old and I didn't care, all I knew was I'd hear that guitar and start rockin' like the doofusy boy that I was, sitting standing walking didn't matter, I just had to jangle my scrawny body when Shadows' singer Jim Sohns started the spell-it-with-me G-L-O-R-EYE-EYE-EYE and the band hit that ecstatic chorus…oh man. Climax did not yet have the meaning it would have for me and my friends in a few years but there was no mistaking how good that felt. So much accomplished by so few bars of music.
Years later I finally heard the original 1965 single by Van Morrison and Them, and was that a lesson in raw throbbing power for all of us nice suburban white kids. Morrison was but 18 or 19 years old, singing of a girl "about 5-feet-4 from her head to the ground," and that was about his own stature, this short snarling little Irish punk bragging about this girl coming to his street his house his door his room to make him "feel all right" and he was the cockiest little fucker this side of Mick Jagger, backed by a propulsive band. The Shadow of Knight's cover was catchy and fun. Van and his boys were dirty and dirty was better.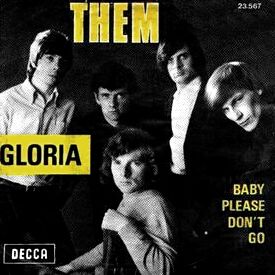 The first "Gloria" was the B-side of Them's cover of "Baby Please Don't Go" (which had some kid named Jimmy Page sitting in on rhythm guitar). Decca, the label, probably had little idea what would follow but the record's sleeve designer seemed to, for the title "Gloria" is far more prominent than "Baby Please Don't Go," which is tucked in the lower corner like an afterthought.
After its release as a single, the song was the sixth track on the the band's first album, titled The "Angry" Young Them!, which in its use of quotation marks could not have said more about the anxiety of all the pop-culture gatekeepers who sensed there was money to be made here but, um, when the singer gets to the part about the girl coming into his room and making him feel all right, does that mean what we think it means?
Yes, it did. Coiled in the 2:37 of that track was all the explosive energy and carnal appetite and wild joy that the grownups in charge had been trying to tamp down since Plymouth Rock. Bruce Springsteen would later shout from the stage, "Is there anybody alive out there?" We didn't know it, but every time we made a little clockwise twist of the volume knob when "Gloria" came on we were saying yeah, we're alive out here.
Lots of touring bands covered "Gloria" in concert and on vinyl. Southern garage rockers The Gants (believe it or not, there is an album Best of The Gants), and Jimi Hendrix, MC5, The Doors (who somehow fucked it up)—but nobody could match the original Van Morrison track.
Until Patti Smith. Now it's 1975, and this wasted downtown boho girl who'd been sleeping in doorways and living lean and hungry with Robert Mapplethorpe issues an album titled Horses and it opens with "Jesus died for somebody's sins but not mine." Talk about throwin' down. Most of us didn't know who she was but she's not messing around in announcing herself as the song starts to amp up, taking its time with nervy swagger as the singer finds herself bored at a party until she spots something hot on the street and that's when Patti Smith hits the gas: "I said darling, tell me your name / she told her name / She whispered to me, she told me her name / And her name is, and her name is, and her name is/ And her name is G-L-O-R-I-A" and there it was: ten years after Van the Man, she had taken his masterpiece and made it the foundation of something so good it takes your breath away nearly 50 years later.
So put in your earbuds and go here. And turn it up. Loud.

Meco newsletter reader
Pull your newsletters out of the mess of your inbox and read them in a proper format.
Go to the appsite